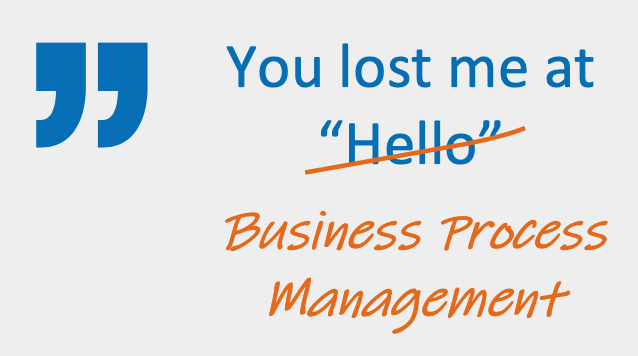 At Process Core Group we provide Business Process Management services. If you think this is old school or a software sale, then you are not alone. Many business leaders I meet lose interest the moment you bring up Business Process Management. Yet, our customers find Business Process Management is and will remain a valuable tool in which they continue to invest. What explains the different viewpoints? 
In my experience the term is misunderstood due to sale of BPM software solutions as Business Process Management. BPM software can, don't get me wrong, add enormous value if – big IF – used in addition to more fundamental business process management resources: people, policy, and process. Additionally, many consultancies are in the IT business. They use BPM as a buzzword to open the door to the executive suite and push their proprietary technology quickly thereafter. Finally, IT projects are often confused for business process management.
A lot has been written about this by the experts: "IT doesn't Matter – Business Processes Do" – Howard Smith and Peter Fingar, 2003. "Reengineering Work: Don't Automate, Obliterate" – Michael Hammer, 1990. And yes, these are still good reads today.
This note resulted from a process assessment. It is an example of using business process management as a tool: IT is in place, but the end-to-end business process is broken. 
Picture the following – You produce base chemicals from feedstocks (bulk raw materials) and process chemicals (packaged raw materials). These packaged process chemicals are received and stored in a warehouse. The production process physically consumes these materials differently: feedstocks are pipelines, silos, and tanks, whereas process chemicals are added as needed from inventory at the producing unit. This 'unit inventory' is replenished from the warehouse by an inventory transfer request from the production manager. This physical process is standard in the industry and ensures production is not interrupted: the producing unit controls the inventory required to operate.

The way inventory transactions were recorded is what we found as a root cause for inventory problems and financial close delays: When a process chemical is transferred to the producing unit, the transfer is not recorded in the ERP system. This means physical inventory is not properly reflected in th e ERP system. The Materials Requirements Planning process ('MRP') sees sufficient inventory and therefore takes no action. MRP requires the inventory to have been administratively used before it can trigger replenishment to the warehouse. 
The result of this broken process includes labor and process inefficiencies and missing controls – To determine how many of each process chemical is consumed both the inventory at the producing unit and the warehouse need to be counted. "Consumption = beginning inventory + deliveries – ending inventory".
For the warehouse such daily/weekly inventory counting makes no sense. If the transfer out of the warehouse is recorded in the ERP system at the time the physical inventory is transferred, then physical inventory would match the inventory in the ERP system. Warehouse inventory accuracy typically does not require a count that frequent; 'normal' counting principles can be applied. This daily/weekly counting is labor intensive and this approach ensures inventory accuracy at the time of counting only.
A better process
The existing process may be suitable for a small business where warehouse personnel knows what material is where and when it came in last. An on-site warehouse as described requires the appropriate transactions recorded to avoid stock-outs, shrinkage, and unnecessary inventory counts:
Assess the process and implement the appropriate (and basic) administrative transactions in the ERP system. (This is the core of business process management).
Reinstate the warehouse team with all responsibilities of record keeping and inventory accuracy: movements in and out of the warehouse.
For a limited period, continue counting to address the data trust issue and quickly reduce the number of counting events when ERP inventory for the warehouse proves to be accurate.
Moving away from this daily/weekly counting is a change management challenge as trust needs to be rebuild:
"without these counts we have seen occurrences where we run out of inventory – I do not want materials management to cause a production stoppage because a chemical is not in stock" — VP Production
This company decided to "address this in future ERP upgrades". Until that day they will continue to count daily, and have their Finance/Accounting department record the inventory and consumption transactions manually. The warehouse capabilities (scan-in, scan-out, scan-out and consume, etc) exist but are not used for this purpose. 
Business Process Management | Chemicals | Manufacturing | Warehousing | USA | Automation | End-to-End Process